Examining the Effect of Smartphones on Child Development
Published by Concordia University, Nebraska 2 years ago on Fri, Feb 28, 2020 1:03 PM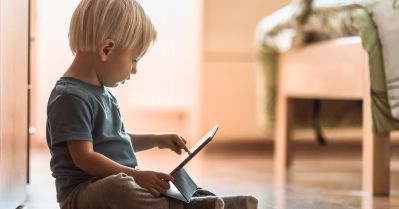 Excessive smart phone use has already started to affect some of the youngest users. According to a Pew Research Center study, just over half of U.S. teens surveyed said they believe they spend too much time on their phones. For better or worse, this trend has already begun to trickle down to younger children.
According to a Common Sense Media study reported by NPR, more than half of children under the age of 11 now own a smartphone. As a result, parents and researchers have begun exploring the positive and negative effects of smartphones on child development.
The Positive Effect of Smartphones on Child Development
While it may be intuitive to focus immediately on the consequences of smartphone technology on youth, the learning benefits of smartphone technology cannot be ignored. Equipped with miniature computers, students from elementary school to college can develop digital literacies and research skills earlier than previous generations.
To find out more about these scholastic opportunities, of USA Today surveyed teachers across the United States. Many believe smartphones in classroom environments can yield three profound benefits in the development of children:
Self-sufficiency: Through early guidance and support, parents and teachers can help children learn how to self-regulate the time they spend on their phones. This lesson will help them create and practice healthy self-awareness and self-reflection practices that will better prepare them for adolescence and, eventually, young adulthood.
Digital literacy: As children use smartphones, they effectively prepare themselves to engage with future technologies. Because some schools offer high-speed internet access to students, children can begin to develop a greater knowledge of how to navigate resources online through their smartphones. One teacher interviewed by USA Today found that this level of access has a democratizing effect, which can help bridge the digital divide between families of different income levels.
Access to emergency services: In the unfortunate event of an emergency, students with smartphone access can find help more easily. As far as the effects of smartphones on child development, this constant ability to reach emergency services can give both children and parents a sense of security that enables growth.
While these perspectives should be measured, considerably more research needs to be conducted to build a solid case for how smartphone use beneficially impacts children as they grow.
The Negative Effect of Smartphones on Child Development
The drawbacks of smartphone use on children has received attention in recent years. In academia, journalism, and other popular forms of media, there has been a growing concern for the ways that children have increased access to smartphone technology.
Specifically, the behavioral consequences of smartphone dependency in children has received the attention of scholars across the world. An article titled "Association between mobile technology use and child adjustment in early elementary school age" used data compiled from a group of 1,642 first-grade children in Japan to determine whether there's a link between the use of smartphone technology and behavioral development. The researchers found that "routine and frequent use of mobile devices appear to be associated with behavioral problems in childhood."
Additionally, some scholars have even turned toward the adverse bodily effects that smartphones can have on children. A recent article published in the journal Child Development explored the physical health consequences of smartphone use for children. It stated that, as more children begin using smartphones at earlier ages, "it is of importance that neurological diseases, physiological addiction, cognition, sleep and behavioral problems are considered." Because of this, parents and clinicians should be aware of the repercussions of early-age smartphone usage.
The World Health Organization (WHO) has begun identifying the risks associated with children using smartphone technology. The Washington Post recently reported on the WHO designation of how much time children — particularly babies — should spend on smartphones. The organization stated that children between two- and four-years-old "should spend no more than an hour a day in front of a screen." Additionally, the writers found that a research gap exists in the field. They stated that "Long-term consequences can be hard to measure, and ethical concerns prevent experiments" that could explore the topic more thoroughly. As a result, we will likely be unable to grasp many of the negative effects of smartphones that will put children at further risk.
A root cause of the negative effects of smartphones on child development can come from an unexpected place. An article in the Atlantic stated that, before parents should be concerned about their children's smartphone usage, they should first consider their own. As the ultimate examples of their children, parents need to be mindful of their smartphone consumption since that kind of behavior will set the stage for how children will interact with technology. Parents must consider what image they express to their children and how they communicate responsible smartphone consumption.
Strategies to Ensure Smartphone Responsibility
As parents tap into their own behaviors to reflect a positive relationship with their phone or tablet, they'll have a much easier time teaching their children how to approach the world of smartphones healthily.
One important note is to remain mindful of different tablet technologies and applications on them. For example, devices like a LeapFrog or Amazon Fire Kids Edition have been designed to engage with children specifically. In these capacities, children can develop digital literacies responsibly, which may not be the case with technologies that weren't designed with children's development in mind, such as smartphones or other tablets. Further, parents should remain mindful that some applications in different app stores are more appropriate for children than others. While this may seem overly simplistic at first, it's still important to note as parents begin considering the most beneficial avenues for their children to use smartphones.
The American Psychological Association weighed in on productive strategies for parents to use as they provide a positive example to their children. Parents should "keep mealtimes, drivetimes and bedtimes tech-free, allowing families to chat about their day or sit quietly and daydream, which can be creative, calming and synthesizing for children." By establishing specific time slots for both parents and children to tune out their smartphones, both parties will have a greater opportunity to connect more meaningfully.
Finally, PBS offered four guidelines on how parents can best introduce their children to smartphones. They advised that parents should:
​​​Introduce smartphone technology after preschool: In the context of the WHO designation, it makes sense that parents would be best suited to introduce smartphone technology to their children after they've begun preschool. At any earlier stage, children could run the risk of developing adverse tendencies and behaviors.
Activate parental guidance screening measures: Many electronic devices come packaged with parental guidance options, and PBS recommended parents take advantage of these. Because tablet and smartphone technology could expose children to inappropriate content, parents must be proactive in protecting their children in digital spaces.
Apply screen time boundaries: As children use smartphone technology, screen time limits can help reduce their likelihood of developing an unhealthy dependency. Parents can get creative about when children can and cannot use their smartphones, and as long as they remain consistent in their boundaries, children will be likelier to build a healthy relationship with technology.
Screen the content their children consume: Before children use a new smart technology, parents should be mindful about the content their children will consume.
The effect of smartphones on child development will continue to be a hotly debated and explored topic in the coming years. As technology continues to progress at a rapid rate, psychologists and clinicians need to stay ahead of the curve. To help keep this conversation progressing, more research needs to be done.
The best way to contribute to the growing body of research on the intersection of child development and technology is to learn from experienced psychologists in the classroom. A B.A. in Psychology will prepare any interested candidate to approach this topic critically and meaningfully.
Concordia University, Nebraska's flexible online degree features courses that focus on child development, lifespan development and adolescent psychology. Graduates gain the tools necessary to contribute effectively to a rapidly changing world. Earn your degree while balancing your work and life commitments.
Further Your Education Career
Our online Master of Education in Early Childhood Education courses are founded on established age-appropriate approaches (birth through age 8), while also examining current research and emerging issues in this field. It features hands-on instruction immediately applicable to your job, and our convenient online format means you can earn your degree on a schedule that's right for you.