What Are the Job and Salary Outlook for a Population Health Management Degree?
Published by Concordia University, Nebraska 1 year ago on Fri, Feb 25, 2022 4:29 PM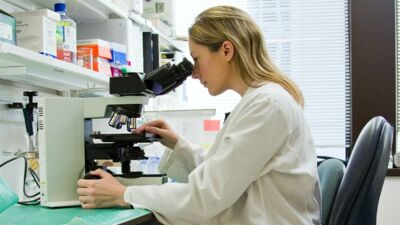 Improve the Health of the Entire Population to Ensure Health and Wellness for Generations to Come
The pandemic exposed many of the weak points in our ability to understand, prepare for and respond to global health emergencies. It reminded us how interconnected we all are. It also showed us how important population health management is for the public safety of everyone.
If you're weighing entering public health and are wondering what kinds of population health jobs there are and what the average population health manager salary is, this article can help answer many of your questions and find the degree program to fit you and your career aspirations. We'll go over FAQs like, "What is population health management?" and "Why is population health important?" Finding satisfying careers in population health is all about knowing your strengths and finding the job that challenges you in rewarding ways.
What Is Population Health Management?
We often think and talk about health in individual terms, and when we picture healthcare professionals, we imagine doctors and nurses helping a handful of patients at a time. While these caregivers are of course one major part of the healthcare system, there are also those invested in ensuring the health and safety of the entire population—regionally, nationally and globally.
Population health managers strive to improve health outcomes for specific groups through community engagement and targeted programs. The groups these health professionals work with vary greatly and can be designated based on a variety of factors such as their geographic community, ethnicity, age or specific chronic health condition. To effectively help these groups, population health managers must first reach out to communities and study their behavioral contexts to understand why people act the way they do and how best to help them.
What Is the Average Range for a Population Health Manager Salary?
We've answered the question, "What is population health management?" Now, let's talk about the average population health manager salary. According to Salary.com, the average population health manager salary varies from $79,219 to $102,492. This depends on what career you pursue, where you live and how many years of experience you have. The U.S. Bureau of Labor Statistics (BLS) predicts a 16% growth in healthcare jobs within the next decade—a much faster growth than the average for all other occupations. So, now is the best time to enter this exciting and challenging field if you want to find a high-paying job that lets you help as many people as possible.
How to Get a Population Health Management Degree
You've already made an important decision to pursue a master's degree. Earning a population health management degree is the most important step you can take to finding a career and earning a good population health manager salary. In a population health manager degree program, you can expect to learn about the foundations of the healthcare system, behavioral health and applied epidemiology. Your core course work might include studies of healthcare law and policy, health services organization and health information technology. A master's in population health provides you with a specialized skill set that may make your resume more attractive to employers or help you stand out in your current organization. Make sure to research programs in population health management to find the one that offers you the most value for your time and money.
Population Health Jobs With a Master's Degree
Careers in population health vary widely for students with a master's degree. According to U.S. News & World Report, a Master of Health Administration (M.H.A.) degree with a concentration in population health is an important credential for the following positions:
Biostatistician
Health educator
Sanitarian
Public health advisor
Health program director
Environmental health scientist
Industrial hygienist
Health economist
Health analyst
Surgeon general
These are just a small sample of the population health jobs that'll be available to you with an M.H.A. in population health. Let's look more closely at some of the most popular careers in population health, so you can get a better idea of what makes a good population health manager salary and what jobs might be a good fit for you.
Epidemiologist: $74,000
One of the most well-known and respected fields in population health today is epidemiology. As an epidemiologist, you would study patterns of disease and improve public health through publishing research, creating community educational programs and developing new health policies. You might still wonder, "Why is population health important?" The field of epidemiology is a good answer: Your research would influence the behaviors of millions, including policymakers and health practitioners around the globe. The BLS estimates the average salary for an epidemiologist to be $74,560. The job outlook within the next decade is predicted to be 30%, making it one of the fastest growing careers.
Medical and Health Services Manager: $104,000
If you're interested in population health manager jobs that let you lead a large organization, becoming a healthcare administrator might be a good option. Medical and health services managers oversee the daily operations of a hospital, research lab, clinic or physician's practice, as well as other healthcare facilities. You might research the health statistics of your community, considering demographics like ethnicity, income and environmental impacts on health and safety. You may then apply this knowledge to planning, directing and coordinating the daily operations of your organization. This could be a good option if you already work in healthcare and want to aim for a managerial or leadership role. According to the BLS, the average population health manager salary is $104,280. With a projected job growth of 32%, this is a promising career option.
Social and Community Service Manager: $69,000
For anyone looking for careers in population health that will let you interact directly with individuals in your community to make immediate and long-term impacts on their health, you may want to consider social and community service management. You have a wide variety of options of organizations to work for, including nonprofit organizations, for-profit social service companies and government agencies. These include substance abuse clinics, homeless shelters and mental health facilities. As a manager in the social and community service industry, your tasks might include coordinating and supervising organizations and programs that support the well-being of communities. You may also oversee budgets, grant writing, funding and finding and training volunteers. The BLS estimates the average salary for a social and community service manager to be $69,600, with a predicted job growth of 15% before 2030.
Toxicologist: $81,000
You may have wondered, "Why is population health important for the environment?" Well, as we continue to explore safer ways to run factories, mine for precious minerals and improve technology, it's crucial that we understand the potentially harmful effects that chemicals and substances have on people, animals and the environment. That's where toxicologists come in. Toxicologists research the positive and negative effects of exposure to chemicals and other substances. As a toxicologist, you might conduct safety testing of chemical agents to better understand how chemicals affect someone or something either positively or negatively. Ultimately, your goal is to protect the health and safety of people, animals and the environment. If that sounds exciting, think about applying for one of the most impactful population health jobs available to you after graduating. According to Salary.com, on average a toxicologist earns $81,054 a year.
Demographer: $52,000
If you're looking for a career after graduating that isn't in a hospital or clinic setting, becoming a demographer should be on your radar. Demographers create long-term studies of populations, focusing on trends and behaviors such as, for example, birth rates or immigration. They then might present their research findings to organizations in government or social services agencies to help them plan how to respond to these trends. If you're analytical and interested in sociology, this may be a good option for you. According to Glassdoor, the average salary for a demographer is $52,522.
How to Ensure You Earn a Good Population Health Manager Salary: Find the Right Degree Program.
You should now have a clearer picture of the average range of a population health manager salary. We've answered common questions like, "What is population health management" and "Why is population health important?" Let's move on to the most important first step you can take to finding these population health jobs: the master's degree.
A master's degree in population health provides you with the knowledge and skills to make you competitive in the job market or stand out at your current organization—ensuring that you earn a good population health manager salary. But keep in mind that not every program is the same. Does the program offer practical experience with patients or practitioners? And is it accessible for you if you are currently working and have minimal time to spare? These are just some of the questions to consider while you research the right master's program for you.
At Concordia University, Nebraska, we take pride in the exceptional value and accessibility of our Master of Health Administration program (M.H.A.). Every course is led by experts in their fields with years of experience teaching and serving others according to their Lutheran values. Our population health concentration prepares you to succeed in any of the population health jobs we looked at in this article. We offer an entirely online M.H.A. degree so you can build the schedule and educational environment that fits your time and learning style.
We also want to make sure that you graduate with real-world experience to create a rich resume that will attract potential employers. That's why our program includes a 70-hour practicum that puts you in the field.
Earn your M.H.A. degree with a population health endorsement from Concordia Nebraska and start improving the health and wellness of communities across the world.