B.S.

Business Communication
Whether you're working with business executives or digital-age creative employees, communication skills are vital, particularly in the modern world of business jargon, complex technologies and online, instant communication. The leadership and interpersonal skills you gain will enable you to effectively lead an organization's internal and external messaging, employees and strategic planning. You can get your point across in the most effective way possible with a degree in business communication.
The business communication major at Concordia University, Nebraska will require you to think of an organization holistically, including
how a consumer will receive marketing messaging,
how an employee's interactions with co-workers affect productivity and
how an investment by the organization communicates a business's political stance.
When you graduate with a business communication degree, you will find many doors open for future employment in a variety of areas.
22:1
Student-to-faculty ratio
66%
Faculty with terminal degree
Get your point across in the most effective way possible with a degree in business communication.
Program Highlights
WHY STUDY BUSINESS COMMUNICATION AT CONCORDIA?
The business communication program at Concordia University, Nebraska is designed to help you
Improve and expand your communication skills,
Teach you the best ethical business practices,
Learn to lead and inspire others,
Explore your creative interests,
Grow your faith and
Apply proper communication in the public and private business world.
Discover what makes the Concordia Nebraska business programs different.
MEET OUR EXPERT FACULTY
As experts in business communication, our faculty and instructors bring years of experience to the classroom.
Meet our students
Erin Maier
Grand Island, NE
"For me, business and marketing are about promoting the good things about something and fulfilling someone's needs based on the product I can provide. The essential question I hope to ask myself is, "How can I improve someone's life with the resources I am promoting?"
Degree Goals
A business communication graduate from Concordia University, Nebraska will be able to:
Utilize relevant and emerging technology in the business communication field.
Write and speak using audience analysis and considering implications for organizational communication and structure.
Effectively negotiate and influence others though written and oral communication.
Make ethical business communication decisions in their workplace.
Business Minors and Concentrations
Minors
Accounting
Business
Computer Science
Marketing
Mathematics
Concentrations
Accounting
Agribusiness
Business
Communication
Entrepreneurship
Finance
Leadership
Marketing
Career Outcomes
Social Media Manager
Create and distribute content through social media platforms
Work with written and visual content
Understand and adapt to your audience
Track and analyze content and data
Content Strategist
Develop and manage content to generate leads and meet content marketing goals
Create written and visual content strategy deliverables
Present relevant content through a variety of mediums such as news releases, blog posts, social media platforms, advertising and others.
Technical Writer
Communicate complex technical information through instruction manuals, how-to guides, web pages or journal articles
Communicate in a user-friendly way so that your audience can best digest complex information
Business Communication Professor
Teach courses in business administration and management
Teach communications classes
Effectively train students for careers in business communication
FAQs
What jobs can I get with a business communication degree?

A degree in business communication provides you with strategic communication tactics that will prove useful in a variety of careers. Because many of the base classes in the business communication major are business-related, most graduates choose to go into a field that utilizes their verbal and written communication skills in areas such as
public relations,
marketing,
management,
event planning,
sales,
human resources,
business reporting,
strategic planning,
consulting,
life coaching,
branding or
digital media.
At Concordia University, Nebraska, you will work closely with your advisor and professors to discover the vocation that's right for you, and internship opportunities are available to help you further explore your options.
​​​​
Is business communication a useful degree?

One of the biggest advantages of majoring in business communication is that if you haven't discovered your vocational passion yet the business communication degree can offer you the flexibility to gain general business and communication skills that will serve you well in whatever career field you end up in.

Organizations are looking for employees who are skillful experts in several areas. Since business communication combines a humanistic and technical approach to business, you get the well-rounded education you need to function in whatever parts of the business world you are passionate about.
Related Programs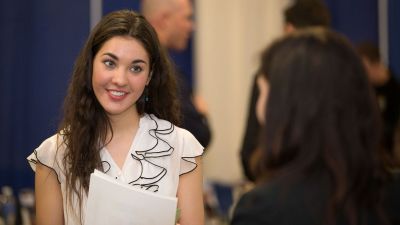 Business Administration
The business administration major provides a large scope of knowledge that will make you successful in a wide array of industries, from marketing to working in government to running a nonprofit organization.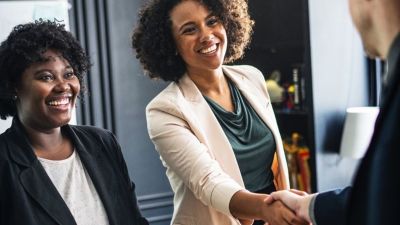 Strategic Communication
A degree in strategic communication opens up a lot of possibilities for employment in a field that you're passionate about. You might choose to pursue a career in a wide range of strategic communication and public relations professions including: account management, advertising management art direction, audience research, copywriting, digital strategy, marketing, media planning, public relations, strategic communication research, sports and entertainment promotion, social media management and sports information.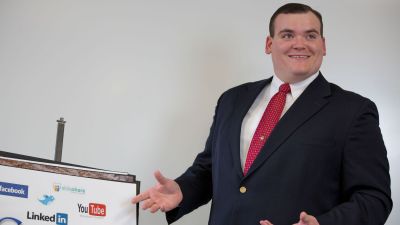 Marketing
A bachelor of science degree in marketing from Concordia University, Nebraska will acquaint you with major marketing concepts and practices. You will develop the skills you need to effectively position your company as an industry leader and efficiently reach target audiences.
1 Recent graduates attending graduate school or employed within six months of graduation.