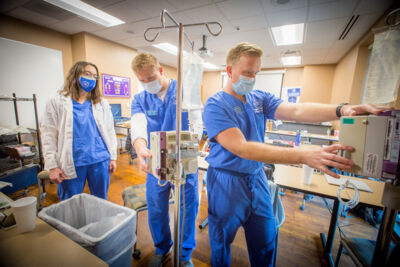 100%
career outcome rate1
Entering the nursing field is one of the most selfless vocations in which you can serve. Using your skills to save others in times of need and helping them live longer, healthier lives lets you serve Christ while you make a difference in the world. Nurses are healthcare experts who combine talents in empathetic caring, creative intellect and skilled practice.
Through Concordia's 3 + 1 Dual Degree nursing program with Creighton University, you'll earn both an accelerated bachelor of science in nursing from Creighton and a bachelor of arts degree in Biology from Concordia in just four years. Each class is intentionally designed from a Christian perspective and will prepare you to enter your nursing career as a Christian leader. For the entire program, you'll meet with mentors from both Concordia and Creighton to help you stay on track and make sure you're prepared for the rigorous program and clinicals you'll be receiving.
Upon acceptance into Concordia, you'll be a full-time Concordia student, part of our supportive campus community, where you can participate in co-curricular activities, live on campus, earn a generous financial aid package and receive the full Christ-centered college experience.
After successfully completing the required courses in three years with at least a 3.0 cumulative GPA, you will become a Creighton University student where you'll finish your ABSN courses on Creighton's Grand Island, Nebraska, campus and participate in clinicals at local area health care facilities. You are welcome to continue living on Concordia's campus during this year if you choose.
At Concordia, 100% of students qualify for some form of financial aid, which you'll be eligible for during your first three years. In your fourth year, you'll be eligible to earn financial aid through Creighton University.
Program Differentiators
Core Concepts
The Concordia University, Nebraska and Creighton University 3 + 1 Dual Degree nursing program provides students with the knowledge, skills and abilities to function effectively in all areas of nursing practice through quality instruction and clinical experiences. The program equips students to be servants of Christ, able to apply their knowledge in a variety of hands-on and simulated clinical settings and to lay the groundwork for finding a career in nursing or continuing their professional education at the graduate level.
Testimonial
My biggest take away from Creighton is that you are never alone. You always have someone in your corner, and you can AND should always ask questions.
Harmony Latham
Grand Island, Neb.
Concordia Nebraska and Creighton University 3+1 Dual Degree Nursing Program

Nursing: Learning Objectives

Students who participate in the 3+1 Dual Degree Nursing Program partnership offered by Concordia University and Creighton University will receive a solid foundation in both natural sciences and applied nursing theory and practice.

Students will learn to communicate clearly and effectively with clients, families and health care constituents.

Students will learn to measure, calculate, reason, analyze and synthesize data related to patient care and nursing practice.

Students will learn to uphold ethical principles and practices of education and the profession of nursing.
Concordia Nebraska and Creighton University 3+1 Dual Degree Nursing Program

Nursing: End of Program Student Learning Outcomes
Students in the Creighton University and Concordia University, Nebraska partnership will be able to incorporate professional communication in interactions with clients, colleagues and community partners.
Students will understand and utilize scientific knowledge derived from theory and research as it applies to professional nursing care.
Students will be able to assume professional responsibility and ethical accountability in providing health care.
Students will be able to evaluate research critically and use findings selectively in professional nursing practice.
Students will pursue knowledge as a lifelong learner to promote professional growth.
Nebraska Nursing Scholarship
Do you want to serve Nebraska by becoming a nurse and playing a vital role in rebuilding Nebraska's public health infrastructure? You could qualify for $2,500/semester through the American Rescue Plan Act.
Any Nebraska resident currently enrolled or intending to enroll in a Nebraskan CNA, LPN, ADN or accelerated BSN program is eligible to apply, including those interested in Concordia's 3+1 Dual Degree Biology & Nursing program with Creighton University.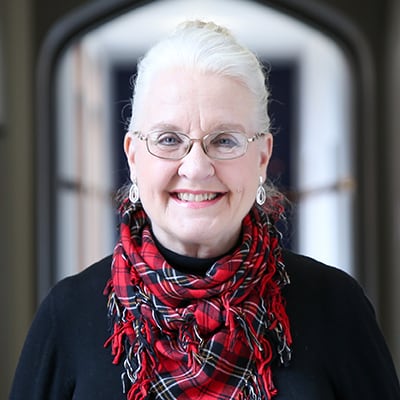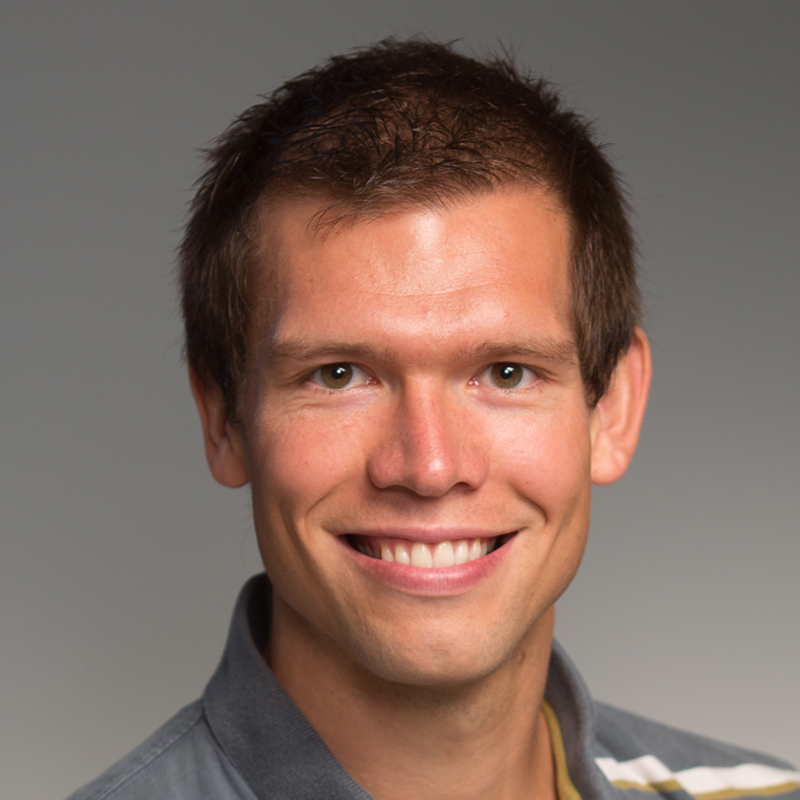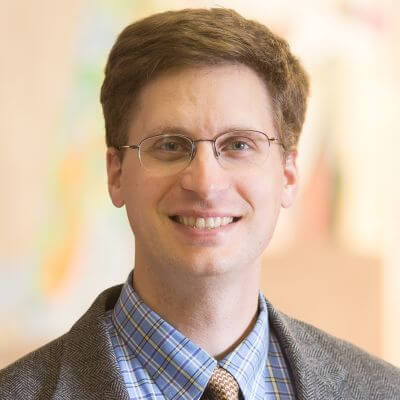 Concordia's Nursing Pathways Faculty
During your classes at Concordia, meet the faculty who you'll be learning from.
Concordia Nebraska and Creighton University 3+1 Program

Nursing: FAQs

What is unique about Concordia Nebraska's nursing 3 + 1 program with Creighton University?
Nursing is Concordia's principle pre-health program. Through this 3+1 program, you can have the full college experience for your first three years, as you take your general education courses on Concordia's campus.
As a Concordia student, you can participate in co-curricular activities, live on campus and earn a generous financial aid package to help make your first three years as affordable as possible before you transfer to Creighton, where you will also be eligible to receive financial aid.
Creighton University is home to one of the elite nursing programs in the nation, with one of the longest-running and most successful accelerated BSN programs.
The biology program at Concordia University, Nebraska, as with all our science programs, integrates science and faith together, rather than seeing them as opposing ideas. Courses and labs in the nursing prerequisite courses at Concordia Nebraska are taught by faculty who are committed to your academic, personal, spiritual and professional well-being.
This partnership will allow students to experience a Christ-centered education from two nationally-recognized Christian universities.
What's the difference between the Concordia Nebraska and Creighton 3+1 nursing program and the pre-nursing program at Concordia Nebraska?
Concordia Nebraska's pre-nursing program is designed to prepare you to transfer to a BSN program elsewhere, or to provide you with a four-year degree in the science field of your choice, usually biology or chemistry that can prepare you for a health-related career. The purpose of the pre-nursing program is to prepare you for further education in a dedicated nursing program or graduate program after graduation.
In contrast, your Concordia experience will last three years before you transfer to Creighton to enroll in their accelerated BSN program. Once at Creighton, your nursing courses will count as the credits needed to finish your B.A. in Biology degree from Concordia, allowing you to complete both degrees simultaneously and in much less time than you would normally need.
The 3+1 program is much more rigorous than a traditional pathway, but you will be able to complete your degrees much more quickly, saving you both time and money.
What kind of classes will I take in the 3+1 nursing program?
Your first three years will be spent as a resident at Concordia Nebraska. You'll take general education and foundational science courses, with an emphasis on biology.
After your first three years, you will transfer to become a full-time student at Creighton University where you will take nursing courses and complete clinicals.
Concordia Nebraska

Nursing: Career Outcomes
Registered Nurse
Registered nurses (RNs) perform patient assessments, collaborate with members of the interprofessional healthcare team, administer medications, implement evidence-based practice through interventions and treatments as prescribed by the healthcare provider, create patient care plans, provide patient education and teaching, and evaluate overall patient outcomes. As an RN, you may work in a clinic, hospital, school, long-term care, or assisted living facility, and would be part of a team of healthcare professionals, focusing on patient care. Depending on where you work, you may also be in charge of supervising Licensed Practical Nurses (LPNs) or nursing assistants.
$50,800
Entry-Level Salary2
$71,730
Mid-Level Salary2
$106,530
Late-Level Salary2
Nurse Administrator
Nurse administrators typically manage staff in clinics, hospitals, or long-term care facilities, and complete administrative tasks such as staff scheduling, performance reviews, attending meetings, developing training and personnel procedures, managing a budget and more.
$58,820
Entry-Level Salary2
$100,980
Mid-Level Salary2
$189,000
Late-Level Salary2
Nurse Anesthetist
After graduate school, you may choose to become a nurse anesthetist. Nurse anesthetists administer anesthesia, monitor patient's vital signs and oversee patient recovery from anesthesia. As a nurse anesthetist, you may assist anesthesiologists, surgeons or other physicians or dentists.
$127,480
Entry-Level Salary2
$174,790
Mid-Level Salary2
$208,000
Late-Level Salary2
Concordia Nebraska and Creighton University 3+1 Dual Degree Nursing Program

Nursing: Related Programs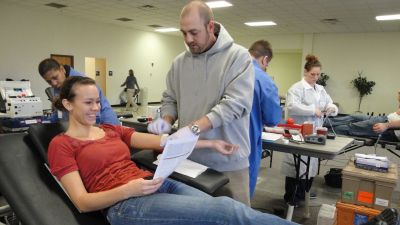 Pre-Nursing
Concordia University, Nebraska's pre-nursing program will prepare you to excel in nursing through a mastery of natural and behavioral science skills, critical writing and analytical reasoning, and opportunities to grow through service, health care internships and research. You will gain foundational knowledge in the sciences, such as chemistry and biology, as well as the psychology and sociology courses you will need to continue your education in nursing.
1 Recent graduates attending graduate school or employed within six months of graduation.
2 Career salary and wages sourced from the U.S. Bureau of Labor Statistics.