Graduate Costs
In addition to greater future earnings, a master's degree can help you advance your career, work on exciting research opportunities, and update your knowledge of current standards and practices in your field. An advanced degree can also be beneficial if you want to change careers or focus on a different area of specialization within your discipline.
No matter your industry—from education to healthcare to business—getting a master's degree can lead to increased earnings and career advancement. However, among other factors—such as time to completion, academic reputation and balance in your life—the cost of a degree is often the biggest concern on prospective graduates' minds.
At Concordia University, Nebraska, we are committed to providing you with a high-quality graduate degree that is affordable and hassle-free. Ultimately, obtaining your master's degree is a worthy investment of your time, resources and finances.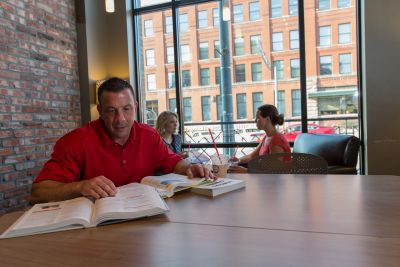 Graduate Cost Per Credit Hour
1Statements concerning all rates in this schedule are by way of announcement only and are not to be regarded as an offer of contract. Concordia University, Nebraska is committed to providing students with transparent and competitive tuition prices. During your uninterrupted enrollment at Concordia, and in the unlikely event tuition prices increase, you will be made aware of these changes. We may adjust prices for future cohorts.
2Nebraska residents, and Lutheran educators through our Lutheran Guarantee, starting in a degree program or seeking a certification Jan. 1, 2022 or later, qualify for our special rate of $340. A rate of $425/credit hour is applied to individuals outside of Nebraska, those enrolled in coursework-only options, or those enrolled prior to Jan. 1 2022.
Finance your Graduate Education
Concordia Nebraska offers many different options to help finance your graduate education. Tuition reimbursement, grants and scholarships may be available from outside sources to help you fund your master's degree. You might also qualify for tax credits such as the federal Lifetime Learning tax credit, which allows individuals enrolled in school to subtract up to $2,000 annually from their tax bill. In addition to our Master's degree programs, our online Graduate Business Certificates also qualify for financial aid. Reach out by phone or email to learn more.
Contact Us
fasupport@cune.edu
Companies that offer tuition reimbursement in Lincoln, Nebraska
Many employers offer tuition assistance or funding to support your educational advancement. By earning an advanced degree in a field related to your job, you will become a more productive, valuable employee. Talk to your employer and find out if you're eligible for tuition assistance.
Ameritas
Dell
Molex
Verizon
West Gate Bank
St. Elizabeth Medical Center
Cabela's
National Research Corporation
Wells Fargo
State of Nebraska
LI-COR
Assurity
Nelnet
Duncan Aviation
Union Bank
City of Lincoln
Lincoln Electric System
Kenexa
Allstate
Fiserv
Gallup
Lancaster County
Kawasaki
Nebraska Army and Air National Guard