Agriculture Internship Fair Presents New Opportunities
Published by Brooke Lange 1 year ago on Fri, Oct 7, 2022 2:14 PM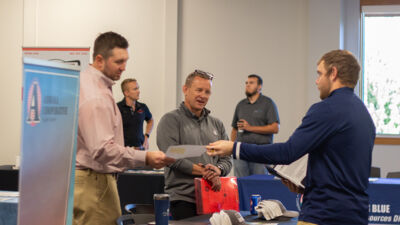 Students were given the opportunity to share resumes with a variety of employers
On Tuesday, September 27th, Concordia University, Nebraska's Agriculture department hosted the program's first internship fair. Thirteen companies were in attendance, representing a wide variety of careers in agriculture, including names like Sandhills Global and Corteva Agriscience.
Students who attended the fair were given the opportunity to discover new opportunities in agriculture through internships, part-time experiences, potential future career opportunities, critiques of resumes and mock interviews.
Dr. Dennis Brink, the head of Concordia's agriculture program, observed that the benefits of the fair went both ways, "Internship providers were thankful for the opportunity to connect with our students. Our students were thankful for the opportunity to learn about all the opportunities in agriculture and to be asked for their resumes! It was a win for everyone involved."
Attendees of the fair were given a platform to discover varied jobs in the discipline, which is an opportunity Kellie Rhodes, a junior agriculture major, took advantage of. "It was at the fair that I found out you could be an agriculture loan officer for the USDA. For someone who is minoring in business, it was a helpful reminder that there is more to agriculture than just farming and ranching."
Concordia's agriculture program was started only three years ago, and Rhodes, who started the program at the same time, sees the internship fair as a representation of the program's development. Rhodes stated that, "There are so many opportunities out there in agriculture, and we love to see the program growing and making a difference here on campus."
Interested in learning more about agriculture programs at Concordia? Discover more here.