Alumni Profile: Serving is a "joy and a delight" for Maria Schardt Castens
Published by Amy Crawford 3 months ago on Fri, Aug 25, 2023 10:49 AM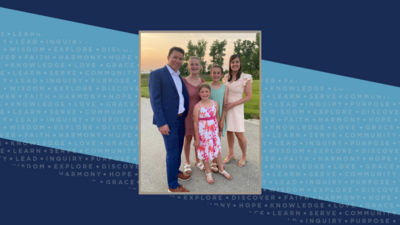 Maria, her husband Aaron, and their three daughters: Alexa, Brielle, and Madelyn
Maria Schardt Castens ('03) first learned about Concordia Nebraska when she was a student at Deshler Lutheran School in Deshler, Nebraska.
"A gentleman from Seward visited and talked about how we could attend Concordia just like the teachers I loved had done," she explained. "During my elementary years, our class visited Concordia for a fun field trip as well. My official college visit toward the end of high school wasn't a great experience, but my grandfather was only willing to put money toward my tuition if I went to Concordia so that sealed the deal!"
Castens has a bachelor of science in secondary education with math and English endorsements as well as a Lutheran Teacher Diploma from Concordia Nebraska. She also has a master's degree in school leadership from the University of Nevada, Las Vegas.
She said that without a doubt the best thing about Concordia Nebraska is the people.
"Students and teachers pointed me to Jesus and showed me what a life of following Him looks like," she said. "From Spring weekend, Concordia Invitational Tournament road trips and Habitat for Humanity trips to Texas…they are all treasured memories. Of course, meeting my husband on the first Habitat trip I took beats everything else!"
She said her professors at Concordia not only helped her discover her purpose, they also carefully and lovingly guided her when she faced questions and challenges.
"They were authentic and personally cared about helping me identify and use my gifts for the kingdom," she said. "I'll never forget Dr. Roebke's response when I told her I wanted to take Calculus 3 for fun even though I didn't need it for an elementary education degree. She steered me in a better direction as did so many who genuinely cared. My professors lived the faith and went above and beyond consistently to hold students accountable and help them achieve."
She said Concordia's theme of servant leadership continues to be critical as the church and its educators equip the next generation to know and love Jesus.
"My faith definitely grew during my time at Concordia through doctrine classes, chapel, floor devotions, worship, and simply doing life with fellow students and professors who were following Jesus with passion and purpose," she said.
Castens' first call was to Faith Lutheran Middle School & High School in Las Vegas, Nevada where she taught middle school math for ten years.
"This was an incredible experience of sharing the gospel with so many who had never heard it," she said. "Students asked hard, beautiful questions as they learned about the God who made and loves them and made a way for them in Jesus."
Her second call was to Christ Lincoln where she has served for the past eight and a half years. She has led middle school ministry and high school ministry and currently serves as the executive director of family ministries.
"I lead our family ministries staff team as we guide discipleship efforts for all ages at Christ Lincoln across both campuses," she explained. "I continue to direct our high school ministry program as well, partnering with faithful adult leaders to point the next generation to Jesus."
Castens said her day-to-day activities are varied, but that serving in her many capacities is a joy and a delight.
"[Recently] we kicked off two weeks of Vacation Bible School, one at each campus. Our stellar children's ministry team leads, and I support them in connecting with families and troubleshooting for station leaders," she explained. "My next task for the day will be finishing logistics for our high school ministry trip to Mexico at the end of the month. [Then] I'll meet with a group of college students and our pastors as the students share thoughts on ways to enhance worship. The night will wrap up with a high school ministry student leadership team meeting to plan the rest of the summer and launch into the fall. Tomorrow will include an executive team meeting in the morning and look much the same . . . but different!"
Although her days are very busy, they are also very fulfilling, she said.
"It sometimes doesn't seem right that I get paid to build relationships with people, point them to Jesus for hope in this life and the one to come, and equip others to do the same by the power of the Holy Spirit," she said. "I've asked God over the years to make it abundantly clear to me how I can serve Him best and He has opened doors time after time that far exceeded my expectations."
Castens is married to Aaron ('03) and they have three daughters: Alexa, Brielle, and Madelyn.
Interested in learning more about secondary education options at Concordia Nebraska? Discover more here.