Alumnus Angelina Stinson returns to Concordia Nebraska to serve speech and debate program
Published by Amy Crawford 3 months ago on Wed, Aug 30, 2023 3:37 PM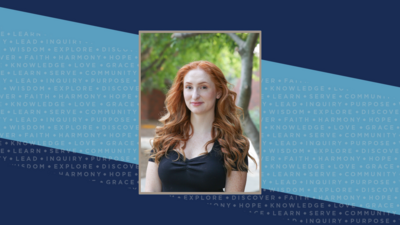 Concordia Nebraska alumnus Angelina Stinson ('23) serves the university as graduate assistant for the forensics program. She assists with marketing efforts for speech and debate and guides students throughout the competition season.
Stinson has a bachelor of science degree in business administration from Concordia Nebraska.
"It is safe to say that I do not believe I would be here if it weren't for forensics," she said. "I would not have gone to college; I wouldn't be motivated to do the things that I do. When I state that forensics without a reasonable doubt changed my life, it would be an understatement. For almost a decade, I have dedicated myself and my love and my passion to this activity."
Stinson is Concordia Nebraska's first-ever American Forensic Association National Speech Tournament Academic All-American, with only 11 students selected in the nation (open division) each year. She is also Concordia Nebraska's fourth four-year national qualifier and a three-time national quarterfinalist in persuasive speaking and prose.
"Through God's grace and the love that I have received, I have not only gained a platform to speak out against oppression and grave injustices occurring within marginalized communities, but I have gained a passion for teaching others to do the same and to give back to those who need it most," she added. "Though my time as a competitor for Concordia University, Nebraska has come to a close with plentiful accolades received and ballots read, there are hundreds of thousands of stories yet to be spoken for the enhancement of our society. I am beyond blessed that Joseph Davis and Malia Frerking are giving me this wonderful opportunity to keep doing what I do best."
When she's not on campus, Stinson enjoys travelling, photography, and spending time with her cat Mango.
Are you interested in knowing more about speech and debate at Concordia Nebraska? Learn more here.