Alumnus Josh Kirkwold: The people are what makes Concordia Nebraska so special
Published by Amy Crawford 2 months ago on Mon, Sep 25, 2023 11:20 AM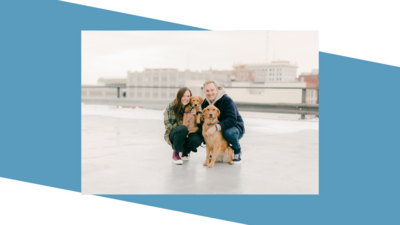 Joshua Kirkwold '17 came to Concordia Nebraska to play basketball. Although sports opportunities attracted him to the university, the people are what made his time on campus truly memorable.
"Everyone was always so nice, helpful, and truly cared," he said. "I also met a number of life-long friends at Concordia, and the professors were always willing to chat about how to choose a career that aligned with my interests. They always did a good job of asking the right questions to help me determine my purpose and to get me thinking of what I truly wanted to do to make a difference." 
Prior to his time on campus, Kirkwold said he was somewhat familiar with the university because his grandfather, Robert Bradwisch '60, attended Concordia Nebraska as well. Kirkwold majored in business administration with an emphasis in marketing.
He recalls his business classes being both challenging and eye-opening. 
"The business professors have lots of experience and are great at what they do," he said. "Professor [Andrew] Langewisch's classes were always tough and challenging, but those classes have helped me tremendously while working with companies in the venture capital/startup space." 
Kirkwold grew up a member of a Lutheran Church – Missouri Synod church in Sioux Falls, South Dakota. He said the faith-based classes at Concordia Nebraska helped him to continue to refine and develop his faith and Christian beliefs.
Following graduation, he served as a paralegal at Enterprise Legal Studio, then decided to attend law school after three years in that role. He will join the firm as an attorney after taking the bar exam this summer. 
"I work at Enterprise Legal Studio as an analyst. The firm is a small, boutique firm that represents high growth companies and investors primarily through venture capital financing transactions," he explained. "I started at the firm after graduation as a paralegal and worked in that role for three years before deciding to attend law school. During law school, I worked at the firm as a law clerk and analyst and am set to start as an attorney there after taking the bar exam. I typically find myself corresponding with clients, conducting due diligence, and assisting with the review of commercial contracts, among other things, on a day-to-day basis."
  Kirkwold said he enjoys the opportunity to work with entrepreneurs as they start companies from the ground up.
"It's very exciting and fulfilling. It's fun to be able to help those entrepreneurs work towards their goal of creating a really great and innovative company," he said.
He and his wife Tiegen '17 met at Concordia Nebraska and married the year after they graduated. They have two golden retrievers, Dakota and Frankie. 
Are you interested in learning more about business administration studies at Concordia Nebraska? Discover more here.