Concordia Nebraska hires Derek Engelbart as Vice President of Institutional Advancement
Published by Amy Crawford 3 months ago on Thu, Aug 24, 2023 8:40 AM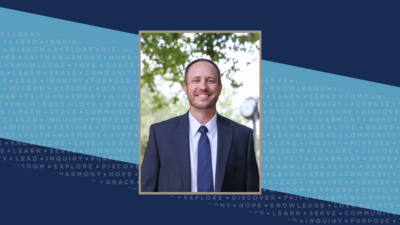 Concordia University, Nebraska recently announced that the university has hired alumnus Derek Engelbart to serve as vice president of institutional advancement. In this position, Engelbart will be responsible for resource development through administration of the advancement team and management of gifts to the university.
"We are pleased to welcome Derek back to the Concordia Nebraska campus," said Concordia University, Nebraska President Dr. Bernard Bull. "His commitment to and passion for Concordia's mission, deep understanding of the difference that a Concordia education makes upon the faith and life of students, and his extensive experience and qualifications make him an excellent addition to our leadership team. I believe that God has brought us just the right person for such a time as this. We look forward to working with him to further the mission, vision and strategic plan of the university."
Engelbart has a bachelor of science in business administration with a minor in communication from Concordia University, Nebraska. A Concordia Bulldogs men's basketball four year letter winner, he enjoyed many opportunities following graduation, including serving as varsity boys basketball head coach as Lutheran High School in St. Charles, Missouri, in various medical and healthcare sales positions in Missouri and Nebraska, as surgery center director at Lincoln Orthopaedic Center, as associate executive director for the Nebraska Alumni Association and as assistant general manager for the multimedia team at Nebraska Athletics.
An enthusiastic and innovative business leader with diverse experience, Engelbart is skilled at cultivating long-lasting relationships and is also skilled in project management, partnership fulfillment, budget analysis and public speaking.
"I am thrilled to return to the Concordia campus to serve the university in this capacity," said Engelbart. "I look forward to working with an incredible team while continuing to foster relationships with faculty, staff, students, alumni, donors and the entire Concordia community to further the mission of the university."
Are you interested in discovering the various ways you can support the mission of Concordia Nebraska? Learn more here.