Ethan Ideus '23 gains experience through Nebraska Game and Parks Commission summer internship
Published by Olivia Dunklau 2 months ago on Mon, Sep 11, 2023 3:46 PM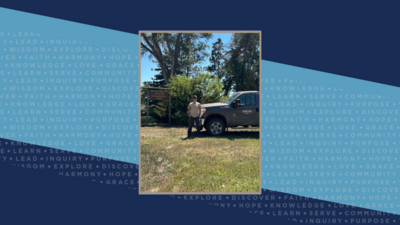 After graduating from Concordia Nebraska with an undergraduate degree in biology, Ethan Ideus '23 found an internship with the Nebraska Game and Parks Commission. Hired to serve as a conservation technician, Ideus sought to gain real world experience and grow his connections in the wildlife and biology fields.
"I knew this internship would help me develop and gain many new skills that would help boost my future career," he said.
Ideus found the internship through the Texas A&M Natural Resources Job Board, which was recommended to him by his academic advisor. The job board was a very helpful tool for Ideus when seeking an internship in the wildlife and biology area of interest.
At first, Ideus was anxious to begin a new role during a new chapter of life following college. He said these feelings led him to second guess his decisions, but he knew that he had a purpose and God had placed him in this position for a reason.
"The most important lesson I learned through this internship was to fully trust in God's plan," he said. "I was reminded by a good friend that this internship and this time of my life were ultimately not under my control; they were under God's control and part of God's plan for my life. Even though I may be unsure, God is not, and I can take full comfort in that truth."
Ideus said his internship duties varied and no two days were alike. He conducted wildlife surveys, maintained trails, followed up on wildlife reports and restored and renovated habitats to better suit specific wildlife. The experience was different than Ideus expected.
"Even though it wasn't entirely what I expected, it was not a disappointment," he said. "I am still very grateful for the new knowledge and skills that I have gained through this internship."
Ideus found potential in each day and valued the new challenges, experiences and opportunities to cultivate his knowledge of wildlife and the environment.
"In the end, this internship has provided me with an excellent opportunity to grow and learn," he said. "I have thoroughly enjoyed my experience and have no doubt that it will be an excellent stepping stone for my future career, even if God decides to change my direction."
Interested in majoring in biology at Concordia Nebraska? Discover more here.