Lifetime Service Award: Rev. Dr. Allan Paul Vasconcellos
Published by Amy Crawford 2 months ago on Fri, Sep 8, 2023 2:44 PM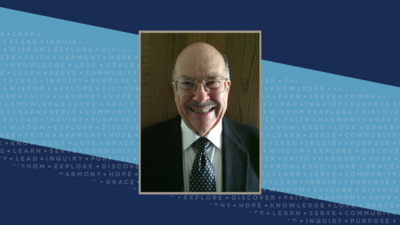 The Concordia Nebraska Lifetime Service Award is given to an emeriti or retired faculty or staff member who demonstrates outstanding Christian service and leadership in the community, church and world through contributions of their time, talent and treasures.
The Rev. Dr. Allan Paul Vasconcellos was born and raised in San Francisco, California, and graduated from California Concordia High School and College in Oakland. He earned his bachelor of arts degree from Concordia Senior College in Fort Wayne, Indiana, a master of divinity from Concordia Seminary in St. Louis, Missouri, a master of education from Southwest Texas State University (now Texas State University) in San Marcos, Texas, a master of science from the University of Nebraska, Lincoln, and a Ph.D. from Baylor University in Waco, Texas.
Vasconcellos served in both the parish and teaching ministries of The Lutheran Church—Missouri Synod (LCMS). He was parish pastor at Hope Lutheran Church, Aurora, Illinois (1964-1967); vacancy pastor at Holy Cross Lutheran Church in Lincoln, Nebraska, Highlands Lutheran Church in Lincoln, Nebraska, and St. Paul Lutheran Church in Malcolm, Nebraska. He also served as vice president of the board for Tri-Lutheran Campus Ministries, Texas, District—LCMS, and he is currently serving on a standing committee of the LCMS.
In the teaching ministry, Vasconcellos served at Concordia College in Austin, Texas (now Concordia University, Texas) from 1967-1978. In 1971, he received Outstanding Educator of America recognition. He served at Concordia College (now Concordia University, Nebraska) from 1978-2012, with 26 years of full-time time service as well as eight years of part-time service following retirement in 2004. During his time at Concordia Nebraska, he initiated the university's master's program in family life ministry. He developed two-thirds of the courses and wrote a theological introduction for each.
"What a privilege to have served here!" he said. "I was honored to serve with a Christ-centered, confessional Lutheran outstanding faculty. Such a wonderful, talented, and dedicated group of men and women! And the students? Gifts from God! Years ago, when visiting my relatives in California, I often would them hear the say, 'Oh, these young people! Sad! What is this world coming to?' To which I would say, 'Well, you should visit my classrooms and meet the students I am so privileged to teach. I think you would leave with a thankful heart and a hope for the future!'"
In May 1986, the beloved professor received Concordia Nebraska's Outstanding Teacher Award. In 2010, Concordia Nebraska Advancement Officer Mike Mettenbrink met with Vasconcellos and his wife, Edna, to establish the Paul and Edna Vasconcellos Church Worker Scholarship Endowment.
Vasconcellos also served his country and community. He was a chaplain in the United States Navy Reserve (1962-1973) and was honorably discharged at the rank of lieutenant. He also served on Nebraska Congressman Douglas Bereuter's Committee for Military Academy Selection. He was a licensed mental health practitioner, a licensed marriage and family therapist, a clinical fellow in the American Association for Marriage and Family Therapy, a member of the American Association of Christian Counselors, and a member of the National Council of Family Relations. He served the community part-time at Pioneer Mental Health and Blue Valley Behavioral Health, Seward for 25 years.
Edna ('85) earned her bachelor of science in education from Concordia College, River Forest (now Concordia University, Chicago) and a master's degree in education from Concordia University, Nebraska She served as a second grade teacher at Zion Lutheran School in Dallas, Texas (1959-1963) and as registrar and admissions officer at Concordia High School and College in Austin, Texas (now Concordia University, Texas) (1963-1969). She also taught in Seward Public Schools as a reading and English teacher (1981-1983 as a part-time para, then full-time as a teacher). She retired in 2002.
Paul and Edna were blessed with two sons: Kevin Paul, an electrical engineer, married to Kathleen and blessed with daughter Amanda, and David Allan, an orthopedic surgeon, married to Kathryn and blessed with children Saige, Kealan and Dorian.
When asked to share a life lesson with current Concordia Nebraska students, he referred to Jeremiah 29:11.
"Know that our loving merciful, and saving God has a plan for you," he said. "It is a good plan, and putting your trust in Him and His Word, you will be amazed as to how He will work out that plan for you, even things you never thought of or planned for, and sometimes, even more than you prayed for. It will take you years to see it, but, by the grace of God, you will see it. I know this. It's my story."
Interested in discovering graduate program offerings at Concordia Nebraska? Learn more here.