Tabitha Ristvedt '23 explores culture, neuroscience in South Korea
Published by Logan Tuttle 4 months ago on Thu, Jul 15, 2021 1:31 PM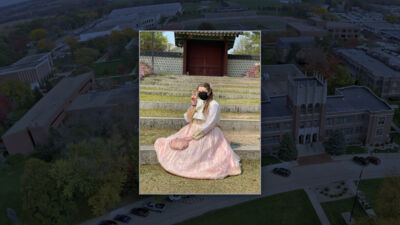 Tabitha Ristvedt '23 of Milford, Nebraska, studied abroad in South Korea during the Spring 2021 semester.
Tabitha Ristvedt did not let the pandemic derail her plans to study abroad.
The Milford, Nebraska native studied in Seoul, South Korea from February to June, completing her studies online at Korea University, part of the country's SKY schools—an acronym used to describe South Korea's three most prestigious schools.
"It means a lot to be able to explore an entirely different culture and still have connections with people from living in the dorms," she says. "I know a lot of people are missing the connections that they were able to make at their universities due to everything being remote and I feel very blessed to still be able to have some connection, despite not seeing people face-to-face in classes. It also means a lot that this program is still running despite the pandemic while still being considerate of everyone's health."
While Ristvedt was making plans to travel to South Korea, her program, International Studies Abroad, presented an online orientation, giving students the details on what the situation looked like in Seoul and what they could expect once they arrived. Masks are required, she said, and if someone is caught without one, they could be fined up to $100. Whenever she would go inside of a restaurant, Ristvedt was required to sign in with contact information to help with contact tracing.
"We were required to quarantine for 14 days once we arrived in the country," Ristvedt says. "We were tested at the beginning of quarantine and then tested again about two days before leaving quarantine. These were the only times we were allowed to leave our rooms. After that, the actual studying abroad was able to start and it has been fairly normal."
As she made friends through her program and residence live, Ristvedt, a junior pursuing majors in biology and psychology and minors in chemistry and music, says she still found time to experience the city that's home to 9.7 million people.
"Thankfully, I still have been able to explore quite a bit," she says. "The main obstacle with the safety protocols is simply how large your group can be. However, we are able to split up into smaller groups and explore different places throughout Seoul. If we want to go outside of the city, we do have to report where we are going to our resident staff provided by our program. Things are still relatively normal, with the exception of a few places being closed to visitors."
Adapting to a new country can be challenging enough, let alone during a pandemic. But, Ristvedt says, everyone she has encountered has been kind and considerate. Studying in a different country and learning another culture, has led to a lot of personal growth in a short amount of time, that she feels will prepare her for her future vocation.
"Studying abroad can be very difficult, especially when you're like me and you decide to only take STEM classes," she says. "I have always been the type of person to fret about grades and only having two grades–the midterm and the final—really makes a person like me freak out."
However, through her relationships her own self-discovery, she learned that facing challenges can be a good thing.
"Of course, you always want to try your best," Ristvedt says, "but if your best doesn't give you the results that you want, it's not the end of the world. I think this is a very valuable lesson for me to have learned and I know it will carry over to my future vocation."
Since the seventh grade, Ristvedt has been interested in understanding how people think and learn differently. In high school, she became interested in definitions because of her interest in philosophy and would ask others how they defined certain words, like love, for example. Ristvedt's curiosity for the human mind has led her down a path of studying psychology at Concordia, and during her work in Dr. Sara Brady's Social Psychology class, Ristvedt understood that cognitive neuroscience would be her focus.
"I've always been interested in more philosophical ideas, so I was interested in how we process thoughts about ourselves," she says. "I'm interested in exploring the cause-and-effect in relation to the release of chemicals in our brains that produce certain emotions. After talking with Dr. Brady, I did some research and studied the difference between social and cognitive neuroscience, and discovered cognitive neuroscience was the best fit."
After graduating from Concordia, Ristvedt plans to study cognitive neuroscience in a graduate program, and hopefully work in a research facility dedicated to the field.