Using her love for the environment, freshman Elizabeth Marsh completes a milestone Girl Scout project
Published by Olivia Dunklau 1 year ago on Fri, Oct 28, 2022 3:10 PM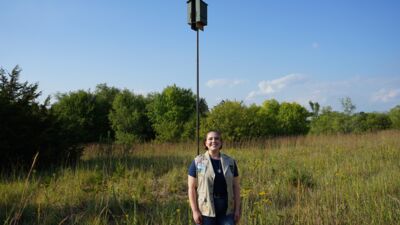 Photo Courtesy of Chrystal Houston, Public Relations Manager of the Upper Big Blue Natural Resources District. Elizabeth Marsh next to one of the bat houses she built.
Elizabeth Marsh is a freshman studying environmental science at Concordia University, Nebraska. She attended Emmanuel Lutheran School for elementary and middle school in York, Nebraska, just a short distance from Seward.
"It was common to have people come and tell us about [Concordia]," said Marsh. "In high school, I came on a college visit, and I loved the campus."
Halfway into her first semester of college, Marsh said she appreciates what Concordia has had to offer her thus far.
"I really enjoy the community aspect of campus," said Marsh. "There is always something new going on, and I like that campus is on the smaller side."
Marsh dreams of a career in conservation work.
"From a young age, I knew I wanted to work with animals in some way," she said. "I have been passionate about the environment since I was a kid, taking 'samples' from lakes while out camping."
Over the summer, she completed a capstone project for the Gold Award, which is the most prestigious award in Girl Scouts. Her project focused on bat conservation and building bat houses, and her work started in her local community.
A bat house is a small, rectangular space with an open bottom that is located off the ground in a high area. Marsh's overall goal was to give bats a better home out of public buildings. With more bat houses, bats will be safe and have plenty to eat. Bats provide insect control and pollination services which is why it is important to keep bats around.
Marsh has been working on this project since 2018. Although she was challenged by pandemic-driven supply shortages and in-person event cancellations, she persevered. She created bat houses in two local recreational parks in York this summer.
The Girl Scout Gold Award program allowed Marsh to hone her love of bettering the environment and keeping it safe. Girl Scouts of the United States of America has been a part of Marsh's life since she was in kindergarten. Girl Scouts is also where Marsh was encouraged to pursue her major. She credits the group for all the life skills, opportunities, and connections that have all come about because of the organization.
"Growing up, I was a shy kid," she said. "Through Scouts I was able to learn many life skills from basic budgeting to time management."
Marsh pointed out that Girl Scouts are "more than boxes of cookies."
"One of the misconceptions about Girl Scouts is that we are just a couple little girls going door to door selling cookies, when we are so much more," she said. "We support our communities and take on ambitious projects just as other organizations do."
Interested in learning more about science programs at Concordia? Learn more here.