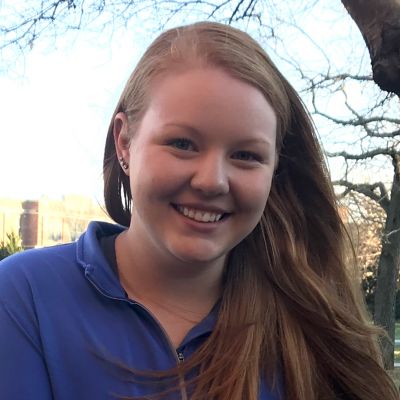 Abby Kepplin
Omaha, Neb.
Even though this year has been pretty weird, people have been friendly, and it's been easy to get involved.
There are several aspects of Abby Kepplin's college experience that have been unique to her. "This is my first year here, but I'm enrolled as a sophomore since I did some dual credit in high school." It was important for Abby to choose a school that was close enough for her to go home if needed, but far enough away where she could be involved with life on campus. "For the first few weekends, there wasn't a lot happening on campus, but as the semester went on there were more safe activities and events to do, which I appreciated."
Abby has joined a few campus clubs during her first semester, including Bulldogs for Life, but as more clubs started to hold meetings and other activities began to happen on the weekends, her shooting sports season started picking up.
Although Abby's commitment to shooting sports may have prevented her from doing more campus activities, she has enjoyed being part of a team. "Some of the sports were still fairly new to me prior to joining the team, but I've learned and improved a lot. My teammates are very inviting and willing to help me improve."
Abby also enjoys the aspect of learning new things in her program. "I took an extensive career assessment over the summer, and my two top results were working with animals and sales. I chose communications because of how broad it is, I really have so many options with it. All of my professors are outgoing and engaging making the classes a relatively fun experience."
With all of these options available to her, Abby has an idea about where her journey may lead her. "I think I might want to do something with interior design or real estate. I'm constantly rearranging and organizing my room. I think I've painted my bedroom like four times."
No matter which route her journey takes her, Abby is confident that she'll find her calling. "It's really important to be yourself and trust God. If you're not, then you may not be doing what you were truly called to do."