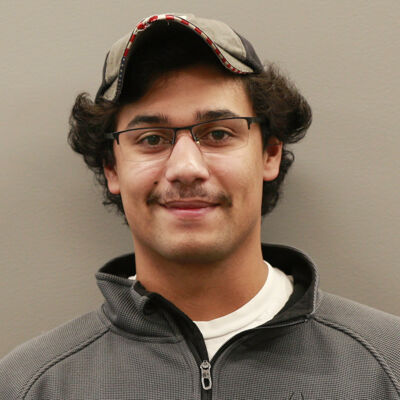 Simon Higgason
Sioux Falls, S.D.
My professors' passions were evident and their passion helped me find mine. Learning from professors who are so dedicated, it was like I wanted to be around them as much as I can so I can learn everything I can while I'm here at Concordia.
When Simon Higgason first visited Concordia's campus as a basketball recruit, he found himself being intimidated—in a good way—by the science professors he met. From those first conversations, he knew he'd receive a good education.
Through conversations with current students during his trip, he quickly learned that he'd be challenged, and from day one, he was up for it.
"A girl I spoke with, who is in medical school now, said that when you're in Dr. Connie Callahan's class, if you're not studying, you're already behind," Higgason said. "That was awesome to me, and I thought 'I need to be in Dr. Callahan's classes.' I have this drive to learn as much as I possibly can."
Higgason's curiosity fuels his passion to learn as much as he can. It's a big reason why the Sioux Falls native is majoring in four programs (biology, chemistry, math and physics), taking a psychology minor, works as a physics lab assistant and participates in multiple clubs on campus.
"I want to know everything science," he said. "I just love it. It's very challenging, but also very rewarding."
The path to selecting four majors and a minor was like a snowball for Higgason. Once he started learning about one field, he'd take a class in another and become enamored with it. The more classes he took, the more he wanted to learn. In his sophomore year, after retiring from playing basketball, Higgason decided to dedicate himself to learning as much as he could.
"I came in originally thinking I would major in biology," he said. "Then, I met Dr. Kristy and Dr. John Jurchen while I took a general chemistry course to satisfy a requirement. Chemistry was unlike anything I had ever experienced. They gave me a taste of organic chemistry, and it's one of my top five favorite classes I've taken here. Then I took an intro to physics course with Dr. Rob Hermann, who has endless knowledge, and he got me excited for that.
"My professors' passions were evident and their passion helped me find mine," Higgason said. "I love these things, and learning from professors who are so dedicated, it was like I wanted to be around them as much as I can so I can learn everything I can while I'm here at Concordia."
At Concordia, Higgason has seen his professors get across how complex their particular sciences are, while also showing how intricate God's creation is.
"It's just inspiring and it gets people interested," he said. "I just absolutely love the professors here. Their compassion and care for the students is something I don't think you get at larger universities. I have several friends who go to a larger school in Lincoln and they ask me for help with their homework and I'll help them. I know they're trying in class, but I don't think their professors are as invested compared to our professors here."
His multitude of majors provides him the ultimate flexibility when it comes to pursuing a Ph.D., an M.D., or both. Higgason said he has his sights on earning a Ph.D. in either physics or chemistry, where he can share his passion for science with others, and an M.D. in cardiology, where he can help his patients gain a better understanding of their bodies.
"My grandparents were both educators and I used to go to their classes occasionally and I just loved the academic setting," he said. "My mom is a nurse and she has a passion for helping people, too. The passion for helping people, whether in the classroom or in health care has been passed down to me."
To be considered a full-time student at Concordia, and many universities, a student must take at least 12 credits—this fall, Higgason is taking 23, and in the spring, he'll be taking 25.
With a course load like that, it's vital to be organized and have excellent time management skills. For Higgason, those both come naturally because it was the way he was raised as part of a busy family, where his family dinners always included discussing each person's schedule for the next couple of days to help keep everyone in the loop. He's adapted his planning skills to college well by finding a new routine that allows him to be intentional about focusing on tasks.
"I have a weird sleep schedule," he said, "when I get off class at 3:30 p.m., I'll eat dinner and go to sleep around 5 p.m., then wake up at 10 p.m. and stay up until 4 or 5 a.m., then go to sleep again for a few hours. There are so many distractions during the day and less at night. It works for me, and that's what it's important. Everyone has to find what works for them."
Even with the packed schedule, Higgason said he makes it a point to have social time and make it to church on Sundays.
"I've met people in the science department that I'm really close with," he said. "I'm a fairly social person, so I'll take short breaks and randomly walk over to Janzow top to find someone I can talk to. You can only do so much linear algebra before you need to take a serious break."
As a physics lab assistant, Higgason is used to helping other students comprehend complex concepts. Sometimes, those tutoring sessions can happen randomly outside of the classroom. During one of his short breaks in Janzow, he came across a student, who he had never met, studying physics. Higgason said he went over to chat with them and quickly found out they were stuck on a problem.
"It was the perfect time to help him," he said. "We went over the problem a couple of times together and talked through it and I asked him to explain it to me, which is a good way to make sure something sinks in. Sure, I lost out on some of my studying time, but it was all worth it to see it all click for him."
Set to graduate in May 2022, Higgason said he feels prepared for his future because of the opportunities he's had at Concordia.
"I'm asking questions all the time," he said. "I really do not like not understanding something. If I hear something, I have to know how it works. I feel prepared for school after Concordia because my professors have high expectations. They're more than willing to help, but they also expect me to put in the effort. I think that's great, I respect that and I think that's a great way of preparing anyone."