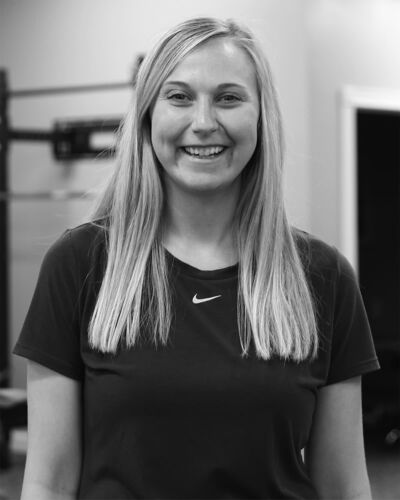 Maria Ryan
Physical Therapist at Lincoln Orthopedic
Maria (Deeter) Ryan '18 combines a love of people with a love of science
Maria (Deeter) Ryan '18 said that making the decision to attend Concordia University, Nebraska was pretty easy. After all, both of her parents attended the school, as did several aunts, uncles and her four older siblings.
"They all loved it," she explained. "And then when I wanted to play college soccer, [and Concordia] gave me the opportunity to go to a place where I knew I'd get a good education and also get to play the sport that I love with some of my best friends."
A Seward native, Maria received a degree in biology from Concordia University, Nebraska and a Doctorate in Physical Therapy from the University of Iowa in 2021. At Concordia, she played on the women's soccer team and earned All-American and Academic All-American honors.
Knee injuries during Maria's soccer career introduced her to physical therapy. She was impressed by the skill and knowledge of the physical therapists that treated her, and she was deeply impacted by the lasting relationships she made during the process. She had always had a strong interest in science as well as sports, and decided to pursue physical therapy after conversations with several supportive Concordia faculty members.
"I remember having a lot of talks with Dr. (Kyle) Johnson '08, who was my professor and counselor. I had no idea what I wanted to do," she said. "So we sat down and he said 'Okay, what do you like about science? Do you like people? Do you want to be in a lab all day?' We kind of talked through the pros and cons of each career."
Those conversations helped Maria recognize that she could combine her love of people with her science skills in a vocation that serves others and helps them realize improved health.
As a physical therapist at Lincoln Orthopedic Physical Therapy, Maria works with a variety of patients of all ages and enjoys the challenge of meeting each patient's need and finding the best treatment options for them based on their situation.
"We treat ankles all the way up to shoulders, backs, dizziness, balance, you name it, we pretty much see it all here," she said. "We help people get back to what they want to do and reach their goals."
Physical therapy is often about helping people return to a fitness or mobility level that they enjoyed prior to an injury or surgery, she said. Sometimes it's about simple things that most of us take for granted each day.
"I just recently had a patient tell me 'Thanks for teaching me how to walk again." You really can't beat that," she said.
For Maria, physical therapy is not just about restoring mobility and strength in her patients, it's about building relationships with people. Physical therapy can make a tremendous difference in the lives of those who have been injured or endured surgery, but it is important for the physical therapist to have a good rapport with their patients. The medical knowledge is necessary, but it is also important to have the people skills needed to interact with these people on a daily basis. She said talking to people and getting them to trust her is one of the biggest and most important parts of her job.
She said her experience at Concordia pushed her to discover her strengths and hone her interests. Whether she was being challenged by coaches on the soccer field to improve her skills or encourage by professors in the classroom, she said every staff member on campus pushed her to strive for excellence.
"[They encouraged me to] be more than just okay at things, but to be the very best," she said. "I really enjoyed that challenge."
When she's not working, Maria enjoys an active lifestyle that includes coaching high school soccer, working out and spending time with her husband, Logan Ryan '19. Maria met Logan at Concordia. He teaches business classes at Lincoln Lutheran High School.