Science Students Receive 2022 Department Honors
Published by Brooke Lange 1 year ago on Fri, Apr 29, 2022 3:45 PM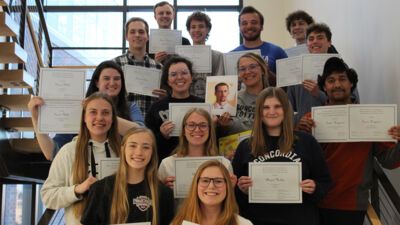 Concordia University Nebraska's Department of Natural and Computer Science recognized students for their exceptional work and contributions to the department during its annual awards celebration on April 20th.
The department get together is usually celebrated outside around a campfire, but this year, due to fire threats, the department adapted to an indoor celebration – roasting their s'mores by Bunsen burner and candlelight.
The nature of the awards ceremony is a relaxed one, which according to Dr. Robert Hermann, professor of physics, and chair of the natural sciences department, is a bit of a contrast to the rest of the year. "Our programs are challenging, our students work very hard, and the students and faculty get to know each other very well. Students work very closely with professors, in and out of the classroom and lab. The event gives faculty the opportunity to say thank you to the students for all their hard work, for all their help, and for all the joy they brought to the department and to Concordia. It's a chance to get together, relax, and say 'we did it!'"
At the awards ceremony, they recognized the graduates from the various science departments. This year, they recognized 32 biology majors, seven chemistry majors, one environmental science major, four physics majors, and three science education majors, who are graduating in May.
Benjamin Moll, a junior from Seward, Nebraska, earning a physics major, and Ella Moll, a junior from Seward, Nebraska, earning a biology major, received the Dr. Gilbert Daenzer Natural Sciences Scholarship Award, the department's top honor awarded to a senior or junior science student who most exemplifies the late Daenzer's passion for service during his 30-year Concordia tenure.
The Natural Sciences Scholarship, funded by current and emeriti faculty was awarded to Rachel Battershell, a senior majoring in exercise science, biology and chemistry, from Wheatland, Wyoming, and Nicole Breese a senior from Solon, Iowa, majoring in chemistry.
Kaetlyn Todd, a senior biology major from Gering, Nebraska, received the Golden Scalpel Award as the top student in gross anatomy, Concordia's human cadaver dissection course.
The department also recognized outstanding lab assistants for the year. Carter Kent, a senior from Crete, Nebraska, and Malia Rolf, a senior from Seward, Nebraska, were named outstanding assistants in biology. Kenna Miller, a senior from York, Nebraska, received outstanding chemistry assistant honors, and Simon Higgason, a senior from Sioux Falls, South Dakota, was named the outstanding lab assistant in physics.
Gideon Luehr, a sophomore from Wood River, Nebraska, received the award for outstanding first-year student in agriculture science. This was the third year the department has presented the award.
Lauren Baker, a biology major from Fremont, Nebraska, and Lauren Edmond, a exercise science major from Gastonia, North Carolina, received awards for outstanding freshman in chemistry, which is an award recognizing freshman showing early promise in general chemistry.
Want to learn more about science programs at Concordia? Learn more here.