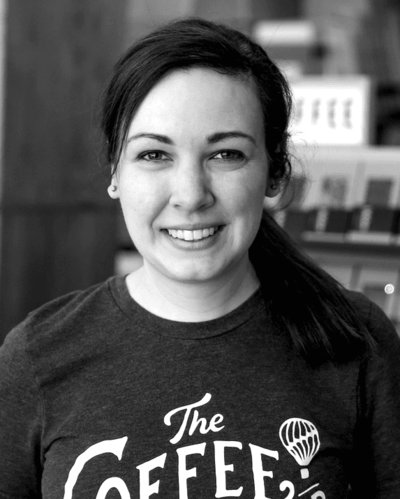 Samantha Karnes
Owner of The Coffee Roaster
Samantha Karnes '12 roasts coffee, builds relationships
Samantha Karnes '12 has always had an entrepreneurial spirit. During her time at Concordia University, Nebraska, she studied business administration, marketing and Spanish. So when her dad mentioned that he was planning to sell his coffee roastery in 2014, she quickly offered to buy the business from him.
"I just jumped in not really knowing what I was getting into," she said. "My husband was the roaster. I worked the counter and did a lot of the backend stuff. And then over the last seven or eight years, it really became what it is today."
The Coffee Roaster in Lincoln, Nebraska was founded in 1995 and is only a coffee roastery, which means that they don't sell coffee drinks. If people stop in seeking a ready-to-drink beverage, Samantha (who goes by Sam) refers them to one of the many local coffee shops. Her business roasts large coffee orders for businesses, and also sells small portions to walk-in customers who want to buy a few pounds of air roasted coffee to enjoy at home.
Sam took over the business when she was 23. She said owning her own business and being her own boss is an adventure, and each work day is full of new surprises. She spends a lot of time communicating with wholesale clients and managing their orders, as well as making connections with new contacts to see if they would be interested in The Coffee Roaster coffee.
"Every day is a little different," she said. "I always have a plan or at least somewhat of a plan, and sometimes things go according to plan, and sometimes I end up doing a lot of things I'm not expecting to do!"
Sam said being her own boss allows her the ability what she wants concerning the direction of the business, a freedom she enjoys. But she points out being your own boss can be difficult, too, especially when faced with tough decisions and challenging situations.
Sam discovered Concordia Nebraska after she heard some high school classmates talking about the university. She said her time on campus afforded her many opportunities to explore a variety of activities and hone her business sense with the help of dedicated and talented professors.
"I really liked that Concordia was a smaller school. I was able to do a lot more activities than I would have been able to do at a big school," she said.
Sam was on the dance team one year, she played oboe in the band, she traveled to Honduras to participate in a language school and she even took a marine biology class. Her diverse experiences on campus helped shape who she is today, she said.
"I learned a lot that I could apply to my own business," she added. "The professors were just so supportive, and since class sizes are smaller, it was nice to feel they knew who I was and noticed if I was gone. [They were so] helpful along the way."
And what's the best part about her work at The Coffee Roaster? Without a doubt, it's the people.
"I really enjoy working with people in the community that I've built relationships with," she said. "I've become friends with a lot of [our wholesale clients] and also our customers. We know them by name. We see a lot of their life happen, and they see what happens in our lives. I just like that coffee brings people together!"